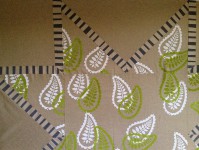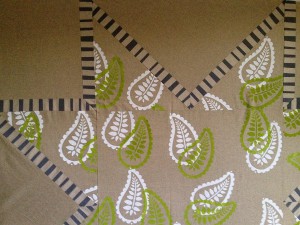 What better way to start the blog than a weekend creating.
I was lucky enough to be on a two day screen printing worshop with Saffron Craig organised by Michelle of the Naturaloom.
Saturday was about learning the techniques and then getting down to business. I chose a paisley design
I wanted a design that could be used on a quilt/throw and with colours to match the new decor of our living area.
So after drawing up the image and hand cutting it out the stencil was ready. I have to say I was impressed with the result and the clarity. So one screen down and then off to cover the whole piece of linen/cotton blend (something in my stash from Material Obsession) . I was on a roll…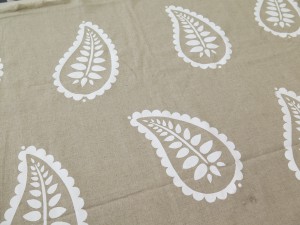 Then I chose to add a layer of images in green, trying to match the colours of some fabric we have chosen.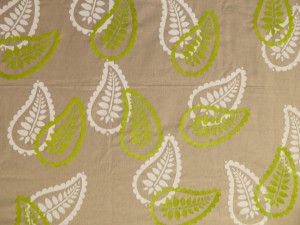 I had in mind to make a quilt, though was not sure of the design but I wanted something to contrast the organic shapes and introduce some grey into the colour scheme, the stripes were so easy – masking tape directly on the screen and there it is, I did three strips of the grey stripes. This was the end product at close of business on Saturday.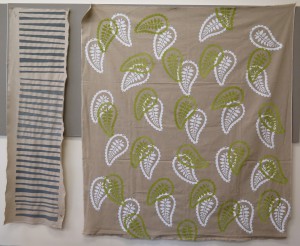 Sunday and the challenge was to make a quilt in a day, 5 hours to design, cut and sew a quilt, well I was up for the challenge. I only wanted to use the fabric I had made  and the cotton/linen base fabric I had printed it on. I was limited by the amount I had printed as well. I thought about bordered panels, cutting the paisley into nine panels or do a big 'churn' style quilt  but I decided I wanted to keep the fabric in as big a piece as possible to show case the paisley fabric. So I headed into the murky depths of the maths of a star quilt and half square triangles and work a way of bordering the star.
Here is a link to the work in progress on Saffron's Instagram page as well as a glimpse of some of the other creations and works in progress form the two days.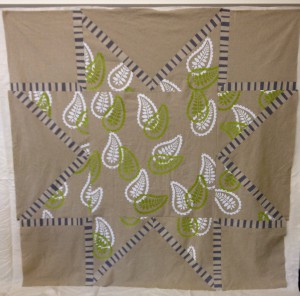 So here is the finished quilt. I am really pleased with the way the quilt has turned out. It measures 70″ square, i think I git some of the maths wrong for the large half squares that form the'V' in the edges as they do not quite match up but I think that will get lost in the binding but not bad for 5 hours work from design to finished quilt top.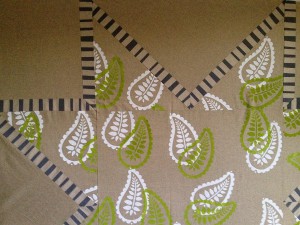 And here is some detail. There is enough of the stripes left to bind it
I plan to back it in some grey and green  Parson Gray fabric that is a wonderful soft linen to contrast the linen/cotton quilt top.
And there it is, a great weekend full of creative stuff and a quilt made by me form fabric printed by me. Not forgetting all I learned in the workshop – from  template design and the elements needed for a strong design, how to make and then print a screen, and make the fabric and overlay and also how to border a star quilt (though this is my worked out method though I am sure there are tutorials out there.)
A great weekend…