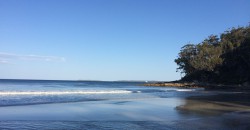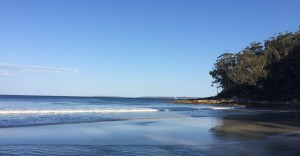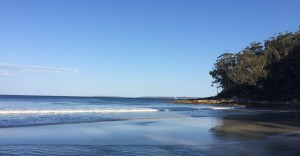 Time for a holiday. We have escaped to the South Coast to Sanctuary Point, in a great house. A time to gather the family, as it expands, and a time to gather thoughts, reflect and create. I love the time to sit and knit, the rhythm of the stitches allows the mind to settle and process, and I so often find  answers to some of  the challenges at work come in to my thinking. some of my most creative educational insights and solutions have come as the fingers, yarn and needles work together.
I am continuing on with the Swan's Island indigo yarn in my top down sweater, I am at the beginning of the body having put the arms onto waste yarn (well dental floss as I forgot my darning needle and the only thing that would for into my Addi interchangeable was some dental floss, but heh McIver would have been proud!)
Here is the reason you do not knit indigo dyed yarns on white furniture, wearing white or anywhere near anything white…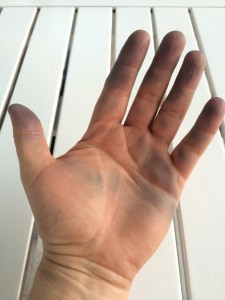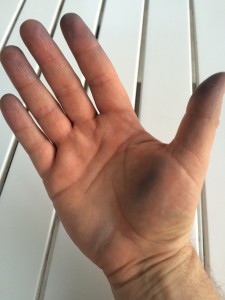 It washes of after a while, most immediately but you are left with some for a while, on the other side of the hands you see the trace of the yarn lines around fingers as i knit continental – I have been told that I knit in german  and purl in norwegian, and also purl in english as well. I was taught to knit in english but as I knit most things in the round where possible I taught myself to knit in a 'continental' style so I pick my stitches. I manage to get even tension so I stick with it and it seems to give an even knit. The swans Island is random dyed so there are changes seen when you switch balls but I tried interchanging balls and it made no difference. I think that is the beauty of the yarn, it is organic in all senses.
Before I came away I finished the top of the dreamy hexagons. I am happy with it and learnt a lot along the way, This was really the first time I have  done squares in squares and found the bias and tendency for the borders to stretch a challenge, especially in the second border, but I am not after perfect as that is not how life works out so the quilting and the wadding of the quilt are forgiving.
Apologies about the colours in the photos, the top detail is more accurate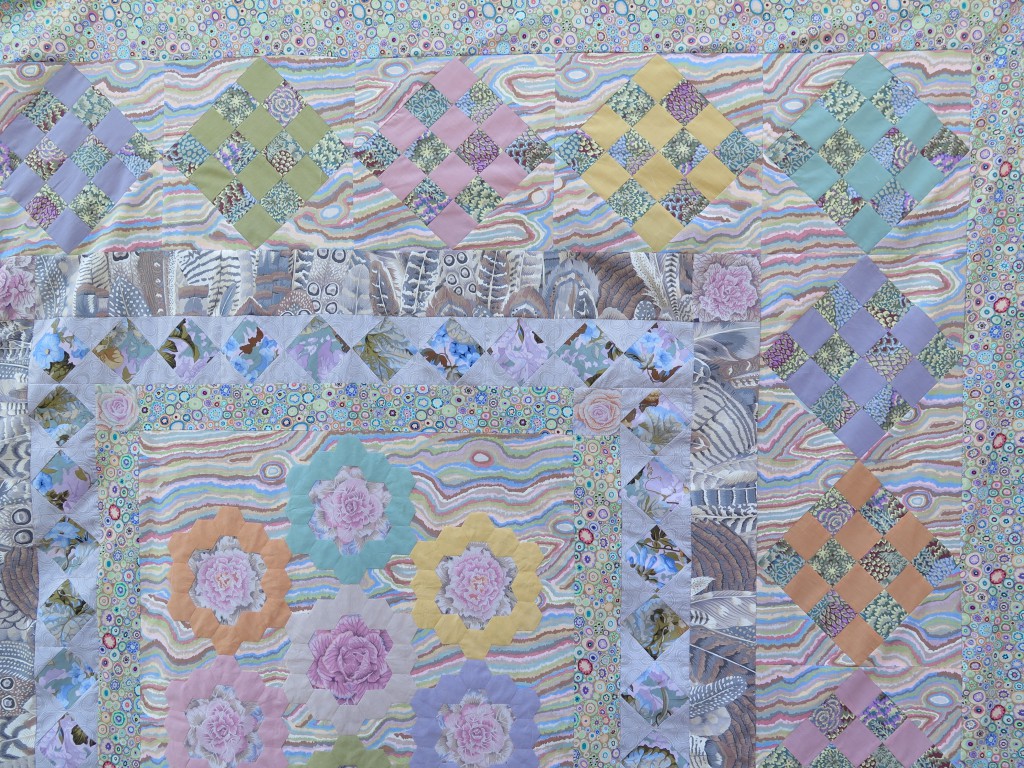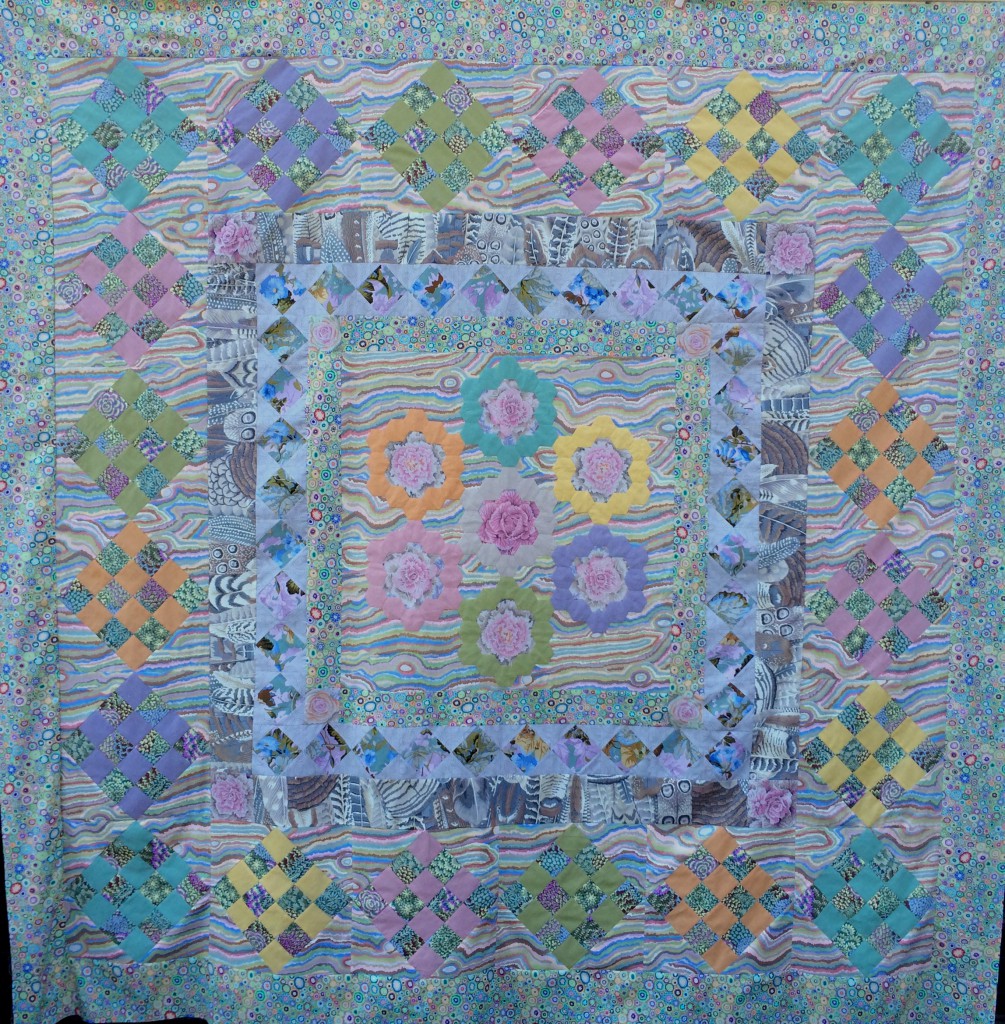 The 16 patch squares came out well (even if I did put them on a 90 degree tilt to the pattern but heh who would know, well I suppose you do now) and I used a couple of trick as well as a new Bloc Loc strip set ruler that I collected a t the NSW Quilters Guild show at Sydney. It does make them come out well , will be using this technique ang purchasing a few more of their rulers as they do allow accurate blocks.
The design wall was empty , though not for long as I put up the fabric for my red and white quilt for the NSW challenge so it can marinate and  evolve, I am trying to work out the piecing. I am using Reece Scannell shot cottons in different reds, well thats the theory and I have a plan in mind and there's an ampersand in there somewhere there. Watch this space as the quilt evolves…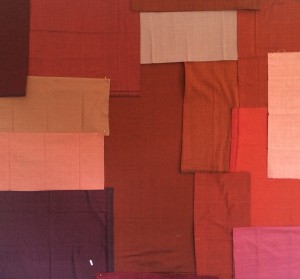 I was reading about about the importance of being true to self, to be who you were created to be and found a poem  by Gerard Manley Hopkins that is amazing, I had never read this before, the initial imagery is alive with colours, and the memories and emotions they evoke, sitting on a river bank catching the flashes of colours as the kingfisher darts into the water…
As kingfishers catch fire, dragonflies dráw fláme;
As tumbled over rim in roundy wells
Stones ring; like each tucked string tells, each hung bell's
Bow swung finds tongue to fling out broad its name;
Each mortal thing does one thing and the same:
Deals out that being indoors each one dwells;
Selves—goes itself; myself it speaks and spells,
Crying Whát I do is me: for that I came.
Í say móre: the just man justices;
Kéeps gráce: thát keeps all his goings graces;
Acts in God's eye what in God's eye he is—
Chríst—for Christ plays in ten thousand places,
Lovely in limbs, and lovely in eyes not his
To the Father through the features of men's faces.
The poem encapsulates so much, and so succinctly. I think there is good reason some consider it his best poem. Though I am no expert on poetry I get lost in it.
As I looked up the various comments on this poem and other blogs (try Emily's poem a day) I fell upon a few verses from a poem by Elizabeth Barrett Browning which seems to drop into my life at regular intervals and always at the right time:
Earth's crammed with heaven,
And every common bush afire with God;
But only he who sees, takes off his shoes,
The rest sit round it and pluck blackberries
There is this return and call to just pause, breathe and see. To be present.
Selah…