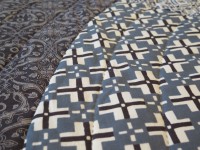 Spring returned today having made a show 2 weeks ago and then hiding behind the clouds and rain. It was good to get out and enjoy the  sun, the sound of the sea and the smell of the sea and salt. Having had a couple of days in Melbourne and with a pretty tight schedule as well as some interesting challenges leading up to  the meetings it was good to stop this weekend and amid the domesticity find some time to create.  I wanted to sew and something I could complete in a day. the perfect project – Mega Churn Dash from Kathy Doughty of Material Obsession . You can see a clip from Kathy, recorded for Creativebug ( a crafting creative web site with loads of classes) here. I have had the fabric for this for a while and its part of the Parson Gray fabric line in a decorator weight. The pattern is in Kathy's Adding Layers book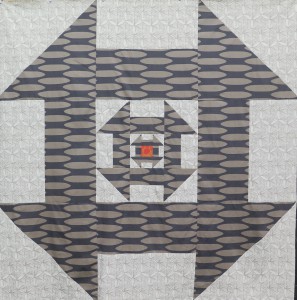 The quilt is about 80″ square. In Kathy's quilt the centre is the same white/neutral  but I wanted a focus – a centre to draw the eye in. the quilt will be buond in the same orange colourway.
I had to hang it outside to get a good picture – good job the sun was shining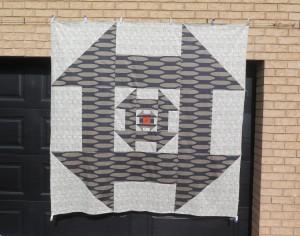 I think it turned out well and was very therapeutic. I want to try and find a woollen blanket form Salvos for the wadding as I want to have minimal quilting and its big to do a lot of detailed machine quilting with my machine. but was thinking just stripes if I cannot get a blanket. I will probably put a border on the quilt of the dark fabric.
I have used the Parson fray on my curious circles quilt that I put into the NSW quilters guild show, which I hand quilted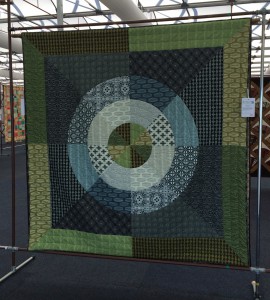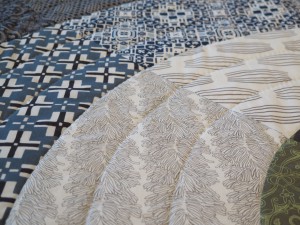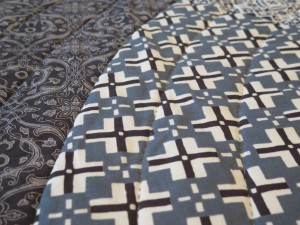 One of the best things about the week was the Father's day gift from my son, Peter. It has to be one of the best gifts. It is a coffee filter – A Chemex filter.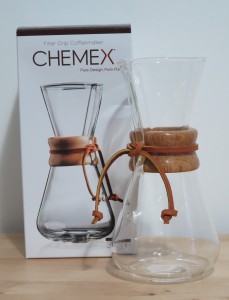 Well I was not convinced how this would make a good coffee and images of drip coffee form student days. Well,  I am sold. It has great filter papers that you have to fold and then after you add your coffee you have pour over your water.
There are a couple of things that I think are great – the flavour to start with , it is really smooth and not bitter (just like it says! – a product that lives up to its claims, truly amazing) and the look is amazing – perfect for my den/studio. Love the aesthetics of it, the glass, wood and leather are amazing but the best thing is that in order to make the coffee you actually have to be present.
You have to stop, there has to be an intention to make the coffee, no turn it on , walk away and  come back. there is a process and it required you to be fully present, and I love it.
To stop, be fully present in the moment and really no distractions is becoming part of my daily routine, and now is part of making coffee. Great.
Part of 'We Make the Road' this week focussed on seeing the meaning in the world around us, being present and seeking a a new logos or logic, and challenge the logic/logos of the world around us, and see the logos  in the life of Christ, in love. To find a new centre.
To quote Brian McLaren:
     So here we are, alive and paying attention. we discern patterns in life. We interpret those patterns and we open ourselves to the possibility of a creative logos of love, and wisdom runs thorough the Universe like a current and can play in our lives like a song
So things come together. a centre, being present, and finding the pattern and meaning.